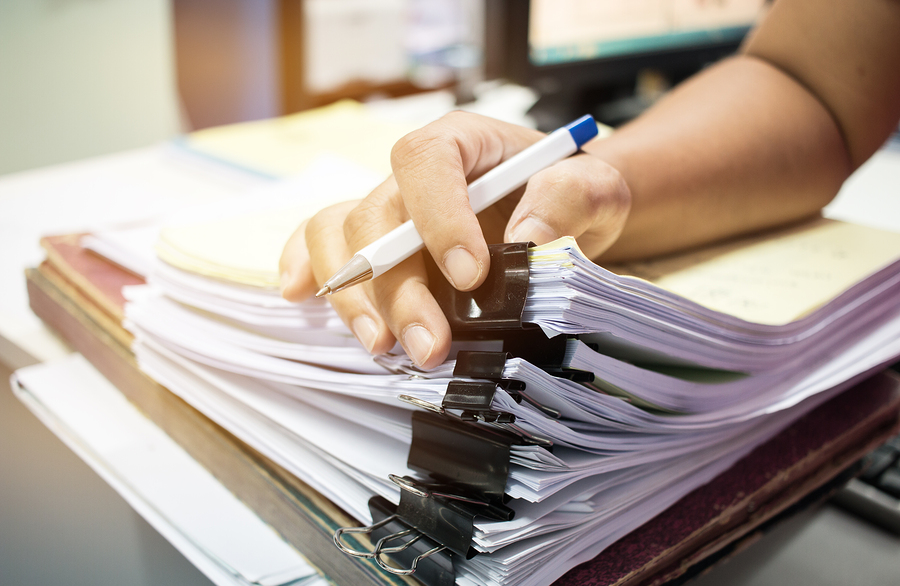 At ABI, our record retrieval services don't end with delivering documents. Our clients also benefit from our document management system, which makes it easy to view, sort and analyze multiple records on one platform. If you're considering a document management system for your law firm or claims office, here are four features to know about.
1. Provide Secure Data Storage
It wasn't that long ago that businesses stored all of their documents in filing cabinets, boxes and office drawers. The shift to the paperless office has happened relatively rapidly, which means businesses aren't always prepared for the security concerns specific to electronic storage. Data breaches hit a record high in 2017, with security breaches increasing by 44.7 percent over the previous year. The industries targeted most often include business, healthcare and the banking/finance sector.
If your business handles sensitive, private information — and nearly every business does — security should be among your top priorities. This is why you need a document management system that keeps your data secure.
Leon Rodriguez, the former director of the Office for Civil Rights in the Department of Health and Human Services, says document management systems should offer three key safety measures for properly protecting electronic data:
Access Controls – To be secure, a document management should feature access controls that only permit authorized individuals to view documents and data. Examples of access controls include passwords and PIN numbers.
Encryption – Your document management system should use the latest encryption technology. This means that only authorized users can view the documents in your system. Advanced encryption also allows you to share files and documents with other members of your team.
Audit Trails – Audit trails keep a record of who accessed or viewed a document, as well as any changes they made. In the event of a breach or unauthorized access, audit trails can help you identify the source of the breach and secure your system as quickly as possible.
In short, your document management system should offer multiple layers of security that prevent your data from falling into the wrong hands.
A secure document management system also allows you to back up your data — an important consideration when it comes to data theft, natural disasters or other widespread data losses. Surveys reveal that an astonishing one-third of businesses don't back up their data. Among those that do back up their information, about half maintain just one backup copy of their data.
Your data management system should be incorporated into a larger disaster recovery plan. About 40 percent of small businesses never recover after a disaster, whether it's a hurricane, flood, fire or data breach. Even if your business isn't located in an area that tends to experience extreme weather, a hacking incident or even a lengthy loss in electrical power could lead to widespread data loss. A document management system that backs up your data in the cloud ensures that your information is protected and secure.
2. Enable Effortless Collaboration
Your document management system should be more than just a virtual filing cabinet. When you need to share a document with a colleague, does the system make it painless to send the document to other team members? And once your co-worker has access to the document, can they mark it up, add notes and highlight keywords and phrases? Finally, does the system preserve these mark-ups and notes so that everyone on the team can view them at any time?
These features are an important component of any document management system. The traditional way to collaborate on a set of documents involves one person taking possession of the documents for a certain period of time — which can be days or weeks, depending on their schedule. During this time, other team members must wait for their turn to review or sort the documents.
With a document management system that allows for easy collaboration, the entire team can view, analyze and comment on documents at the same time. This speeds up document analysis and puts more time back in everyone's day.
3. Provide Time-Saving Document Summarization
How do you normally review and summarize a stack of documents? The traditional method for summarizing records involves a painstaking process of sorting through each document by hand and manually scanning each page for information, keywords and important dates. What if your document management system let you effortlessly review, analyze and summarize records from a convenient client portal?
At ABI, we have created a document management system that lets you review and summarize records faster, so you can put more time back in your day. Our innovative records review and summary tool, eSummary by ABI™, lets you open any single document from your record summary document with a single click of the mouse.
From there, you can use OCR search to find keywords, phrases or dates. You can also highlight text within the document to create an automatic note that is saved within the document, so you or a team member can return to it later. The days of post-it notes and dog-eared pages are a thing of the past.
So just how revolutionary is eSummary? When we put it to the test, we asked users to search for three specific pages within a stack of 250 documents. When our test group used traditional manual search methods, it took them 117 minutes to locate the pages. With eSummary, our test participants needed just 14 minutes to find the documents they needed. This is a time savings of 103 minutes.
What could you do with an extra 100+ minutes each day? Faster document review and summarization helps you capture additional time and conduct a more thorough document review.
4. Offer 24/7 Client Support
A document management system should not be a "set it and forget it" kind of installation. Once your document management system is in place, you need ongoing support that is available in case you have questions. You may never have a question or concern, but if you do, you want to know that support is there when you need it.
At ABI, our superior client support is one of the many reasons we enjoy the highest client retention rate in the industry. Every client we serve receives their own client relations team who understands their account and their needs. Clients can get in touch with their client relations team through their web account, by email or via phone. Clients can also check the status of their account 24/7 through our client portal. We also conduct regular client surveys to assess how we're doing and in what areas we can improve to better serve our clients.
Bonus: Integrated Record Retrieval and Document Management
In addition to document management, law firms and claims offices must frequently request records in order to handle cases and process claims. At ABI, our primary focus is record retrieval, and we are committed to obtaining records quickly and affordably.
When we retrieve records for our clients, we make them available in a client platform that is intuitive and easy to use. Our record retrieval system and document management platform are fully integrated, which means our clients can access their records and use the document management tools from a single login and account. This helps clients work faster and more effectively.
Clients can also use the same portal to make records requests and track their orders. We retrieve records in all 50 states, and we have the largest field team of any record retrieval company in the country. We also obtain records in both paper and digital formats. If you need paper records, we handle the scheduling for copying and scanning. From there, someone from our team travels to the custodian and copies and scans the records into our system.
If your current record retrieval process involves multiple phone calls, emails, faxes and follow-ups, you can take the headaches out of record retrieval — and enjoy faster turnaround times — by partnering with ABI.
Call ABI to Learn More About Document Management Systems That Work for Law Firms and Claims Offices
At ABI, we serve both law firms and claims offices. We know what our clients need to succeed, and we are dedicated to providing them with tools that get the job done. To learn more about document management systems for law firms and claims offices, contact us online or give us a call at 800-266-0613.